School Zone | Public Place | Facility Enhancement for Drug Cases.  A Washington Criminal Defense Lawyer | Attorney's Perspective.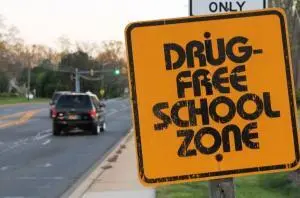 Drug Free Zones are a national phenomena now, with legislation being passed in all 50 states. Its application in Washington means if you are charged with a crime that involves an illegal drug, you can get additional prison time and fines if the alleged crime arose in an area the legislature has determined creates additional risks to the public (not just school zones).  In a number of circumstances, the jail time imposed on the enhancement is not only longer than that associated with the underlying offense but also comes with additional fines and no good time.  Enhancements are served as hard time and create additional hardship for the individual charged with them as well as their families. From a criminal defense attorney | lawyer's perspective, this section is very dangerous especially in urban areas as its reach is very broad. This is a situation in which an experienced lawyer will give you expert assistance.
The Enhancement Itself.
The particular enhancement at issue is commonly referred to as School Zone Enhancement or Public Place Enhancement in Washington law or a Drug Free Zone as the Seattle Police Manual calls it.  If you read through the areas that are covered, it is amazing how much of a city's urban area is covered by this exclusion | violation zone.  These enhancements apply to both juvenile and adult offenders.
A juvenile or adult may have thought they would not get in trouble if they were arrested outside a school engaged in illegal activity but that is not the case.  If the juvenile or adult is engaged in alleged illegal activity within 1000 feet of a school bus, school, public housing project, at a public transit stop shelter, etc., they are exposed to increased time, fines and potential issues with their driver's license.  These allegations require some investigation to make sure the alleged violations were in fact in the alleged zone and under the proper section of the statute.  If the enhancement is applicable, your criminal defense lawyers will need to work extra hard to back off the charge and convince the prosecutor not to apply it to your situation.  This can require some real outside the box thinking by your criminal defense lawyer | attorney. In limited circumstances, the defendant | offender does have an affirmative defense that comes into play if the right facts are available.
What does it cover?
The applicable section of the Revised Code of Washington section states:
(1) Any person who violates RCW 69.50.401 by manufacturing, selling, delivering, or possessing with the intent to manufacture, sell, or deliver a controlled substance listed under RCW 69.50.401 or who violates RCW 69.50.410 by selling for profit any controlled substance or counterfeit substance classified in schedule I, RCW 69.50.204 , except leaves and flowering tops of marihuana to a person:
(a) In a school;
(b) On a school bus;
(c) Within one thousand feet of a school bus route stop designated by the school district;
(d) Within one thousand feet of the perimeter of the school grounds;
(e) In a public park;
(f) In a public housing project designated by a local governing authority as a drug-free zone;
(g) On a public transit vehicle;
(h) In a public transit stop shelter;
(i) At a civic center designated as a drug-free zone by the local governing authority; or
(j) Within one thousand feet of the perimeter of a facility designated under (i) of this subsection.
RCW 69.50.435(6) sets forth the definitions applicable to the above "enhancement zones".  They are incredibly broad especially when it comes to schools and public housing.  
Imprisonment Penalties | Financial Penalties
RCW 69.50.435 (i) authorizes the court to punish those found in violation with, "a fine of up to twice the fine otherwise authorized by this chapter, but not including twice the fine authorized by RCW 69.50.406 , or by imprisonment of up to twice the imprisonment otherwise authorized by this chapter, but not including twice the imprisonment authorized by RCW 69.50.406 , or by both such fine and imprisonment. The provisions of this section shall not operate to more than double the fine or imprisonment otherwise authorized by this chapter for an offense."    
Keep in mind that the Washington statute that applies this law states that you do not even need to know you are in an area that will subject you to the possibility of double the underlying offense penalties.  Lack of knowledge related to geographic boundaries and presence of children are taken away by Washington Statute from the accused.
So What Can You Argue?
One is left arguing the same sorts of arguments we often use in our private retained cases: equitable facts about our client's life, family and job, equitable facts about a client's addiction and the steps they have taken to get back in control, unwitting possession or a failure to meet the burden of proof.  There is also one affirmative defense that is statute specific and requires very specific facts surrounding private residences only:
The Revised Code of Washington sets forth the requirements of this affirmative defense: "It is an affirmative defense to a prosecution for a violation of this section that the prohibited conduct took place entirely within a private residence, that no person under eighteen years of age or younger was present in such private residence at any time during the commission of the offense, and that the prohibited conduct did not involve delivering, manufacturing, selling, or possessing with the intent to manufacture, sell, or deliver any controlled substance in RCW 69.50.401 for profit. … This section shall not be construed to establish an affirmative defense with respect to a prosecution for an offense defined in any other section of this chapter."
Concluding Thoughts
Drug cases involving school zones, public places and facilities are the ones where you most need an aggressive and skilled litigator who knows how to present a mitigation | reduction | potential motions type package during negotiations with the prosecutors.  Your legal team must be experienced and represent a wild card risk at trial.  We know what is required for the State to be able to establish the enhancements and have argued numerous motions related to the suppression of the enhancements on various grounds and won. When the State has what they believe is enough alleged illegal behavior to try and put you away in prison for a substantial time, you need a firm who will fight back.
Knowing how to navigate and fight in the legal system and criminal justice process is the most important skill your team of lawyers can possess.  Whether our role is as legal counsel, negotiator, or litigator, we have years of experience fighting and resolving cases with our clients' best interests in mind.  Choosing the right counsel for your case is essential.   Consultations are free but a poor choice in counsel is not.  Call us at 206-708-7852 to set up an appointment to discuss your situation.